Shipping Methods
Standard Shipping
We ship using USPS Priority Mail or UPS Ground.
Please allow 2-4 business days for delivery.
If you cannot receive mail via the Postal Service at your location, please Contact Us.
Expedited Shipping
If you need expedited shipping you will have to call us and place your order by telephone. We can guarantee that expedited shipping orders will be shipped on the day we receive them, but WE CANNOT GUARANTEE DELIVERY on any specific date.
Shipping Rates
Rates for Orders to the Lower 48 United States
Shipping fees are calculated based on your total order amount:
| Total Order Amount | Shipping Fee |
| --- | --- |
| $0.01 – $12.00 | $5.75 |
| $12.01 – $88.00 | $10.75 |
| $88.01 – $156.00 | $13.75 |
| $156.01 – $337.00 | $14.75 |
| $337.01 and Up | $20.00 |
Other Shipping Rates
Please contact us for expedited shipping rates, rates for orders shipping to Alaska or Hawaii, and rates for international orders.
Other Important Information
Shipping Address
Be sure your address is entered correctly when checking out through our website. If your order is returned to us due to an incorrect address, you will be charged what it costs us to re-ship the order. Fees can vary so double check your address
International Orders
We do not accept orders outside of the contiguous US (lower 48 states) direct from our website. Please provide us with your complete shipping address along with which type and quantity of item(s) you are wanting to order and we will be happy to quote the current shipping rate to your location.
Transit Time Expectations
Many things can cause shipping delays including weather and accidents. Once the shipment leaves our facility it is out of our control.
Actual transit times vary. The following map provides ESTIMATED transit times for shipments being delivered by UPS Ground: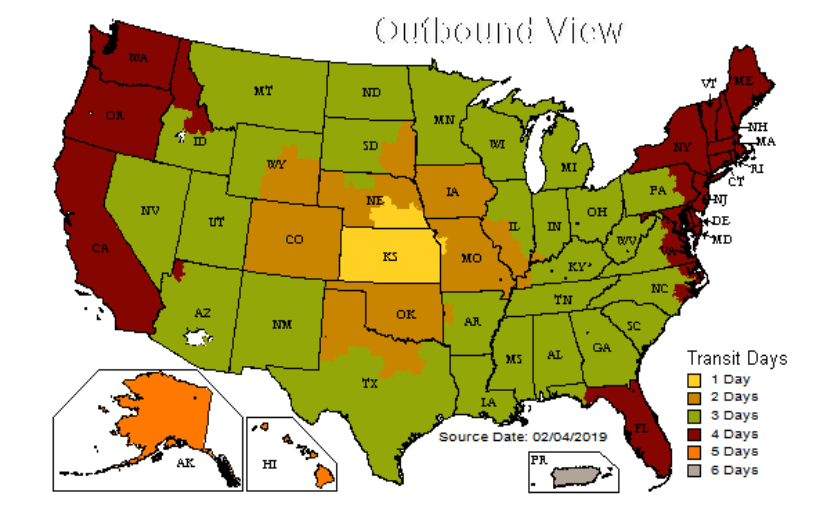 Exceptions / Special Requirements
If your order requires a special delivery method, please call us at (785) 621-2646.