AlumiGlo Lighting along with most other U.S manufacturers have been hit hard by supply chain disruptions amid the Covid-19 pandemic and inflation. Congestions at the seaports, overfull air shipments, employee shortages along with shortages of rail cars and truck drivers has resulted in many items being Out of Stock.  Our cost on PVC, Wire, LEDs and LED Drivers have increased as much as 35% in the past few months which means there will be price increases and items out of stock well into 2023. The furniture grade PVC we use to build many of our Dock Lights and Flounder Lights has been unavailable due to resin shortages and the cost has risen more than 75%.  Unfortunately, the continued shortages and cost increases will be forcing us to discontinue making all lights which require PVC.
The current administration policies has had a huge impact on the global economy and has created disruptions in supply chains around the world. While our products are designed and assembled at our facilities in Kansas, many of the parts used to make our lights come from suppliers located in both the U.S. and abroad.  Not only are manufacturing plants struggling to keep up with production, but shipping companies both here and abroad are running behind due to employee shortages, container chassis shortages, truck shortages, and railroad car shortages.
Lead time on parts made abroad typically has a 60-day turn around when shipped by sea, but manufacturing delays and delays at the US ports of entry has increased that window to 160-days or more.  Even if 100% of all employee's come back to work today, the backlog of freight currently sitting on the docks in the U.S. and China will create massive shortages and empty shelves for many months to come.  Expect many items to be out of stock and prices going up in both brick and mortar stores and on-line stores for the many months to come.
We appreciate your patience and continued support during these times and are doing everything possible to prevent inventory shortages and price increases.  However, there will be times when some items are OUT OF STOCK and due to increases in metal, fuel, parts, taxes, tariff rates, and increased shipping rates prices will be increases as our costs increase.  We would highly recommend ordering any lights you are interested in when they are in stock, because shortages are going to be an ongoing problem until sometime next year.
For more information How 'Chaos' In The Shipping Industry Is Choking The Economy : Planet Money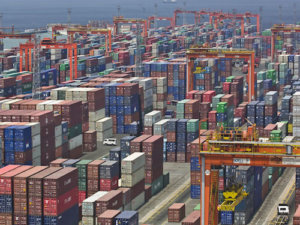 Containers sitting on the dock 4 to 6 weeks without movement
Container ships anchored up unable to dock at the LA Port
Please contact us 785-621-2646 if you have any questions about any of our products.