What To Do Before You Buy
Before you buy, please take a minute to compare our lights features against our competitors lights features and them make up your own mind which light would be the best light for you.
You should be able to do a side by side comparison of our lights versus any of our competitors.
Comparison Points to Consider
WATTS? What is the total Wattage of the light? In most cases, more watts mean more light.

HOW MANY LEDs? The number of LEDs does the light have? The number of LEDs isn't as important as the total lumen's and wattage outputs, but it is a factor to consider.

LED STRIPS or CIRCUIT BOARD? Does the light use LED Strips or LED Circuit Boards? LED strips are used in many inexpensive lights because of cost. Heat will eventually cause the strips to crack and short circuit. AlumiGlo lights use solid state circuit boards in all lights.

HOUSING MATERIAL? Is the light made of plastic or aluminum? Plastic housings will eventually fade and or crack which can cause reduced light and leaking. AlumiGlo lights are solid aluminum and use not plastic or glass parts.

HOW MANY SIDES OF LIGHT? In order to achieve a true 360 degree radius of light the light has to have at least 4-sides of light. SuperBrite lights use a patented 4-sided design.

LENGTH OF POWER-CORD? A 25 ft power-cord is required to reach the batteries in most boats. Power-cord length is many times overlooked until it's too late.

CLIPS OR PLUG? Most light only come with battery clips that are attached to the power-cord. All AlumiGlo lights come with our Pick-A-Plug feature that allows you to use either Battery Clips or a Cigarette Plug which are both included with each light.

WATER DEPTH? Most plastic or PVC lights can only be used at depths up to 15 ft deep or they will leak. AlumiGlo lights are tested and guaranteed to be leak free at 50 ft or more. If the light uses an outer tube to water proof the LEDs there is air inside of the tube. The deeper the light goes, the pressure becomes too great which causes the light to leak. AlumiGlo lights use no outer tube and there is no air sealed inside the lights that can pressurize at greater depths.
The AlumiGlo Difference
All Aluminum or Stainless Steel Construction
No glass or plastic parts to break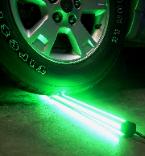 Patented Fishing lights have 4-Sides of LEDs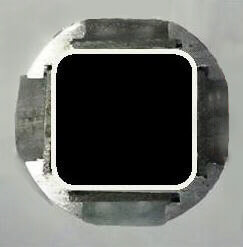 Even the end caps are aluminum – Similar lights use plastic end caps which will break when dropped.
Stainless Steel Strain Relief
Aluminum end cap comes complete with a stainless steel strain relief which prevents the power-cord from pulling loose from the light.
Have Questions or Feedback?
We can help you pick the best light for your application. Call us at (785) 621-2646